See also
| Name | Hot Key | Purpose | Icon |
| --- | --- | --- | --- |
| Print Order | CTRL+P | Print the current work order. | |
Note

The print icon is not shown until an order has been loaded or created.
There are several important configurable options that impact printing. See Settings for details.
Print reports are tested with recent versions of Mozilla Firefox and Google Chrome. Please use a modern browser to view the reports. Old versions of Firefox and Internet Explorer from many years ago may not correctly display some reports.
Orders that have not been saved or which contain unsaved changes cannot be printed.
There are 15 commonly used print reports.
Reports may be printed individually or as a group. With the exception of the "chopsaw fcl (frame cut list)", all the reports are generated as .html pages and printed from within a modern browser.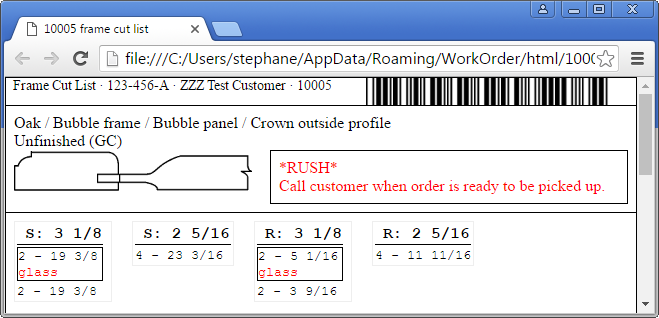 All images and CSS used in the reports are embedded in the report itself, so there are zero external dependencies. This allows the report files to be easily emailed, copied to a USB key, presented on the web, or archived to an external drive / backup server.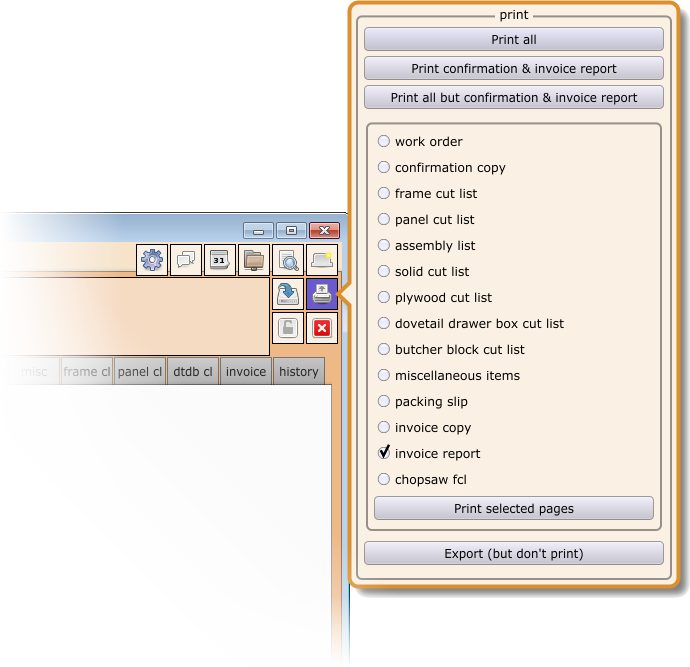 Example Reports
Click on Report Name or Example to see a simple example of each report.